---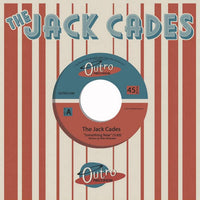 The Jack Cades – Something New / Chasing You
Outro Records
Regular price $13.00
Tax included.
The Jack Cades – Something New / Chasing You
Label: Outro Records
Format: Vinyl, 7"
A - Something New
B - Chasing You
Formed by England's Garage/Freakbeat movers and shakers, The Jack Cades need no introduction at home. For our stateside friends, here's the scoop: Consisting of members of Thee Vicars, The Embrooks, Speedball Jr., The Missing Souls, The Baron Four, etc. The Jack Cades combined their Rock'n'Roll pedigree in 2017 and created Garage/Beat gems that mix clean 60's Garage and R'n'B influence with Surf and Stone Roses-esque Brit Pop. After repeated listens to this record, I'm convinced The Jack Cades could be the UK's answer to The Rebel Set. What do you think?!?!