---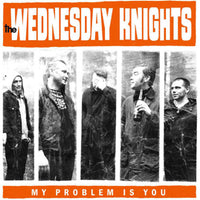 The Wednesday Knights – My Problem Is You
Back To Beat Records
Regular price $14.00
Tax included.
The Wednesday Knights – My Problem Is You
Label: Back To Beat Records
Format: Vinyl, LP, Album
Tracklist
A1 - Knight Time
A2 - My Problem Is You
A3 - Leave Me Alone
A4 - Lively One
A5 - You're Not Gonna Get It
B1 - Oh Lord
B2 - Let's Pretend
B3 - Strike Me Down
B4 - Leave My House
B5 - I Don't Need You No More
B6 - Death Of Me
B7 - Rum Punch Boogie
https://youtu.be/GnSnFraHLjY
'My Problem Is You' is the debut long player from Norway's The Wednesday Knights, containing 12 songs recorded live in the studio over a weekend. The music is on the punky side of garage rock, taking inspiration from sixties garage rock, seventies punk and pub rock, eighties garage revival, Medway garage and rhythm & blues. The Wednesday Knights play garage rock without aping current trends in garage and without trying to sound like an exact copy of a 1966 band (you'll never see them in matching suits). Ten original songs and two covers (by The Modds and The Passions).