---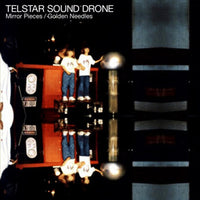 Telstar Sound Drone – Mirror Pieces / Golden Needles
Bad Afro Records
Regular price $7.00
Tax included.
Telstar Sound Drone – Mirror Pieces / Golden Needles
Label: Bad Afro Records
Format: Vinyl, 7", Single
Tracklist
A - Mirror Pieces
B - Golden Needles
https://youtu.be/-3h6FvVVUGQ
Telstar Sound Drone formed in 2007 when Hans Beck convinced Mads Saaby to join him in a project called Les Aprés L'amour Sonnes, an artist collective working with media such as sound and video. The first project was to add sound to old educational movies, playing along with the projections. With the addition of Sean Jardenbæk and Mads Løwe the project turned into a band and settled with the name Telstar Sound Drone.
The band recorded a self-titled EP that led to a show at Roskilde Festival in 2009. After that Telstar Sound Drone took a break while internal problems almost destroyed the band. At one point Hans Beck was the only member of the band playing all the instruments. The problems were solved and in February 2011 they recorded two brand new songs at the Black Tornado studio in Copenhagen with this single in mind.
Telstar Sound Drone cleverly blend shoegazer, drone and psychedelic rock and even though the noise breaks are quite breathtaking the music is always melodic making this release one of the most promising singles on Bad Afro for a long time.