---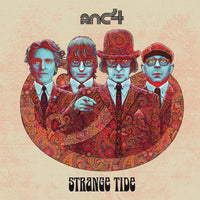 ANC4 - Strange Tide
Beluga Records
Regular price $15.00
Tax included.
ANC4 - Strange Tide
Label: Beluga Records
Co-Released with Snap & Hurrah! Música
Format: Vinyl, LP, Album (100
coloured
Vinyl, 500 Black Vinyl)
Tracklist:
A1 - Struck Gold
A2 - Go Easy
A3 - Is It Me Again?
A4 - Lucky Me, Lucky You
A5 - The Man Who's Afraid of everything
A6 - There Goes My Baby
A7 - Was It Just A Dream?
B1 - Romantic Fool
B2 - Everything Turns Blue
B3 - DarlingHoneyBaby
B4 - Cinderella Lovesong
B5 - Being Nice
B6 - Need Out
B7 - I Want To Feel Good  
B8 - Make Up Your Mind