---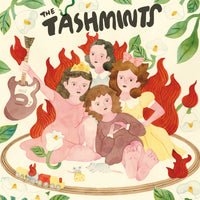 The Tashmints - Selftitled
Beluga Records
Regular price $17.00
Tax included.
The Tashmints - Selftitled (The Tashmints)
Label: Beluga Records
Format: Vinyl, LP

Tracks
01. Papa Doc
02. Quickly
03. Humble Pie
04. Johnny 2 Day
05. Dog Tired
06. Stuff of Legend
07. Treated You Rough
08. Things She Says
09. King St Stylin
10. Miss Armadillo
11. Bad Indian
12. Dog In A Manger
" CasSette Melting Pop NugGets "

Lockdown saw the emptying of many glory boxes, as musicians deprived of an outlet dug into their lost archives. One such box contained the TashMints unreleased record from 2009, featuring a swag of tunes written by Link McClennan, and a couple of covers (The Gun Club & The InCrowd).

Featuring members from a coterie of Melbourne bands: The Meanies, Bindi, Mach Pelican, Sore Eyes, Stoneage Romeos and The Breadmakers, The TashMints coalesced in 2008, recorded the Lp in 2009, then disbanded abruptly in 2010.

They played a lot of live shows over that period, and plan to do so again with the 2022 release.

Sleeve design by artist Sora Mizusawa (from the Japanese band Gimmes)