---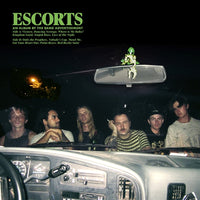 Advertisement – Escorts
Feel It Records
Regular price $30.00
Tax included.
Advertisement  – Escorts
Label: Feel It Records
Format: Vinyl, LP

A1 - Victory
A2 - Dancing Scrooge
A3 - Where Is My Baby?
A4 - Kingdom Land
A5 - Stupid Boys
A6 - Eyes Of The Night
B1 - Only The Prophets
B2 - Nobody's Cop
B3 - Motel Me
B4 - Eat Your Heart Out
B5 - Point Reyes
B6 - Red Rocky Suite

https://youtu.be/y37uy64T0M8?si=2jrPn7HG-C-eXFvq

Running off the back of American Advertisement, as well as a string of standalone singles with Hardly Art Records and Fire Talk Records, Advertisement devoted the bulk of the intervening years between LPs to touring alongside the likes of The War on Drugs, Surfbort, Sheer Mag, Spiritual Cramp, and Narrow Head. Throughout the course of the American Advertisement tour cycle, the band became increasingly disaffected with the stylistic limitations of the live band oriented, English-invasion-meets-Americana rock ethos that defined their first LP. In search of something more formally exciting, Advertisement scattered across the country, landing in between Seattle, Los Angeles, and New York City. They proceeded to piece together the tracks for Escorts in a piecemeal fashion, passing a slurry of Frankensteined home-demos back and forth over email in what became a slow, methodical exchange of ideas. Advertisement reconvened in Los Angeles during the summer of 2022 to record Escorts, enlisting the help of engineer/mixer Mike Kriebel (Osees, Ty Segall, Mild High Club), who tracked the record in between Ty Segalls Topanga Canyon home studio and his own private studio in Glassell Park. The end result is a record that bears increasing energetic resemblance to the chameleon-like, attitude-over-genre sensibility of both early forebears like Roxy Music and Amon Duul as well as more recent contemporaries like Total Control, The Men, and Milk Music.