---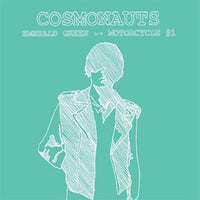 Cosmonauts – Emerald Green/Motorcycle #1
Bad Afro Records
Regular price $7.00
Tax included.
Cosmonauts – Emerald Green/Motorcycle #1
Label: Bad Afro Records
Format: Vinyl, Single, 7", 45 RPM
Tracklist
A - Emerald Green  
B - Motorcycle #1
https://youtu.be/jcqjWDx95NA
Bad Afro is proud to introduce the first 7″ on the label with an American band. And what a great and especially LOUD release it is. Cosmonauts was formed in 2009 and resides in Orange County in sunny southern California and sound like a bunch of kids that don't like the beach too much and spend their time inside taking drugs and complaining that it never rains. They have a huge buzzing sound that rely on broken amps and not pedals that most bands use to make noise.
Cosmonauts released their great self-titled debut album in 2010 on Permanent Records in Chicago although it was originally released on tape on Burger Records (Ty Segall, Thee Oh Sees, Black Lips and much more). They also have a 7″ out on the Italian label Goodbye Boozy. Cosmonauts released their second album on Burger Records which included both Emerald Green and Motorcycle # 1 in radical different versions than they appear on this Bad Afro 7″. A third album was released in 2013.