---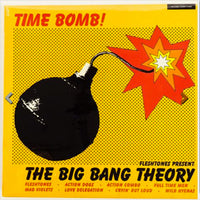 Fleshtones Present: The Big Bang Theory
Skyclad Records
Regular price $15.00
Tax included.
Various – Time Bomb!
Fleshtones Present: The Big Bang Theory
Label: Skyclad Records
Format: Vinyl, LP, Compilation
Tracklist:
A1 –Full Time Men   High On Drugs
A2 –Action Combo   Somebody Help Me
A3 –Mad Violets   Come Out And Play
A4 –Action Dogs   I Can't Get Through To You
A5 –Fleshtones   I Was A Teenage Zombie
A6 –Fleshtones   In My Eyes You're Dead
B1 –Love Delegation   Throught The Night
B2 –The Wild Hyenas   I Go Wild
B3 –Fleshtones   I Forgot How To Talk
B4 –Cryin' Out Loud   Moment Of Weakness
B5 –Fleshtones   She Turned My Head Around
B6 –Ian McKellen And The Fleshtones   Sonnet Xx
GARAGE LORDS! ALL UNRELEASED AND COOL! FEATURING AN REM-ER A SMITHEREEN, THE PLIMSOULS AND OTHER FINE FOLKS.
Have a listen:
https://youtu.be/DwhehsNa3XY