---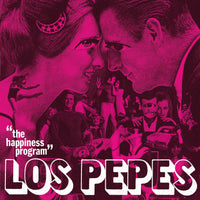 Los Pepes – The Happiness Program
Beluga Records
Regular price $15.00
Tax included.
Los Pepes – The Happiness Program
Label: Beluga Records /
Co-released with Wanda Records and Adrenalin Fix
Format: Vinyl, LP, Album

A1 - Small Time
A2 - Never Get It Right
A3 - I Want You Back
A4 - Let Them Talk
A5 - Sick And Bored
A6 - Blur The Lines
B1 - The Happiness Program
B2 - Standard Procedure
B3 - Anecdotes
B4 - I Remember You
B5 - Keep Me Alive
B6 - Born Into This

https://youtu.be/CbKeiz72Fyg

"Sick and bored!" By no means...The London death squad has on the fifth longplayer no time for boredom and, contrary to the Colombian name donor, the blood boil hot, but not splash. This is ensured by a brilliant best of...reference list, the road of the best can be used as a blueprint: 77 razor melodies of the BUZZCOCKS, including melancholic note, meet the alcoholized Badass sleaze / punk'n'roll of the HUMPERS, including demonic strumming piano. Firewater! Flying furniture! The intro of "Blur the lines" kicks the brilliantly dry RAMONES beat (Tommy!), "I remember you" quotes THE NERVES in sugary sweet harmonies. Bang! Bang! Bang! Three for the price of one: sharp-catchy 77s Punk rock, sweaty Punk'n'roll, charmin' Powerpop, LOS PEPES know the answer to your desires. 12 songs. 12 promises kept.