---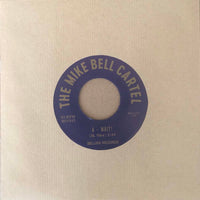 Mike Bell Cartel - Wait!
Beluga Records
Regular price $7.00
Tax included.
Mike Bell Cartel - Wait!
Label: Beluga Record

Format: Vinyl, 7inch
Tracklist
A1 - Wait!
B1 - There comes the pain

Going wild with ringing guitars, fuzz growls and farfisa organ, Helsinki-based combo the Mike Bell Cartel combines the best aspects of '60s garage rock and pop. Mike Bell is known from the group Mike Bell & The Belltones while the participating musicians have connections with a.o. The Hypnomen, Johns Children, The Valkyrians and Hard Action.