---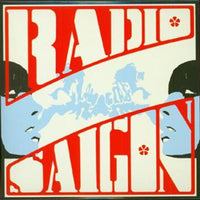 Radio Saigon – Another Time
Bad Afro Records
Regular price $7.00
Tax included.
Radio Saigon – Another Time
Label: Bad Afro Records
Format: Vinyl, 7"
Tracklist
1A - Another Time  
1B - Just As  
2B - Low Class
https://open.spotify.com/album/0k9JhTeyA0AJMg4J3rmYf5
Radio Saigon are a new band based in Copenhagen but with an international line-up. The guitar player Mauricio Santana is from Chile while the singer/guitarplayer Daniel Christensen originally is from the US. They have been around for 18 months and in the spring 2010 they entered Studie 73 to record their first session with Johan Lei Gellett (Baby Woodrose, The Setting Son a.o.). Three of the songs appears on their debut 7". Radio Saigon plays a blend of blues-driven trashy rock, garage and psych, delivering a musical contrast ranging between carelessness and underlying aggression.