---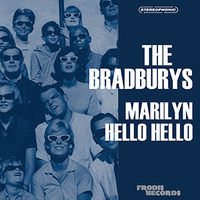 The Bradburys – Marilyn / Hello Hello
Frodis Records
Regular price $10.00
Tax included.
The Bradburys – Marilyn / Hello Hello
Label: Frodis Records
Format: Vinyl, 7", 45 RPM, Single, Limited Edition
Country: US
Tracklist
A - Marilyn
B - Hello Hello
https://soundcloud.com/frodis-records/the-bradburys-marilyn
The Bradburys hailed from the northeast corner of Illinois, birthed from the wreckage of two great Chicago bands (The Steppingstones and The Good). Self-released on their own Vandalay Records imprint in 1999, their debut, Introducing the Bradburys, was produced by Jeff Murphy of Shoes at his band's Short Order Recorder in Zion, Illinois. (Murphy and bandmate Gary Klebe turn up on background vox as well.)
Nowadays, the Bradburys' debut is nigh impossible to track down. Luckily, your resident Frodis Archivists bring you two tracks from the album, including the killer album leadoff "Marilyn," which features bass work by Ted Ansani of Material Issue.
"'Marilyn' is power-pop run through a mid-80's new wave blender, catchy and a little dark at the same time..."
​-- Audio Ammunition