---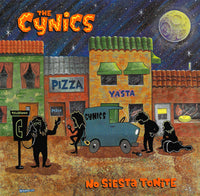 Sale
The Cynics – No Siesta Tonite
Get Hip Recordings
Sale price $14.00 Regular price $19.00
Tax included.
The Cynics  – No Siesta Tonite
Label: Get Hip Recordings
Format: Vinyl, LP

A1 - Intro
A2 - Baby What's Wrong?
A3 - Girl You're On My Mind
A4 - You Got The Love
A5 - Close To Me
A6 - Now I'm Alone
A7 - Yeah!
A8 - I Never Loved Her
B1 - Angel Of The Morning
B2 - No Way
B3 - Love Me Then Go Away
B4 - Blue Train Station
B5 - I Want Love
B6 - Shot Down
B7 - Erica
B8 - Took Her Hand

https://gethiprecordings.bandcamp.com/album/no-siesta-tonite-live-in-madrid-1990


PLEASE NOTE: Has a slightly bent corner of the sleeve.