---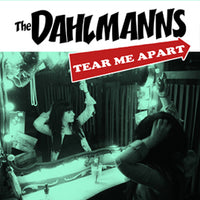 The Dahlmanns – Tear Me Apart
Beluga Records
Regular price $6.00
Tax included.
The Dahlmanns – Tear Me Apart
Label: Beluga Records
Format: Vinyl, 7", 45 RPM, Single, Green Vinyl

Tracklist
A - Tear Me Apart
B - Teenage News

Do the Dahlmanns need any introduction? NO, I don't think so. They have been playing there super power-pop for about 6 years now, every record as good as the next.
And we are so happy at beluga records to be releasing this piece of cool vinyl.
If you are one of the very few that haven't heard them, click on the link below. But be warned you will be caught by the The Dahlmanns power-pop bug! Enjoy!