---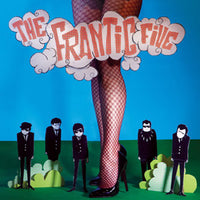 The Frantic V – La Fin
Back To Beat Records
Regular price $14.00
Tax included.
The Frantic V – La Fin
Label: Back To Beat Records
Format: Vinyl, 10", 33 ⅓ RPM, EP
Tracklist
A1 - I Wouldn't Miss My Chance
A2 - La Fin
A3 - Forget I Was There
B1 - I Never Loved You
B2 - Someday You're Gonna Miss My Love
B3 - Tighten My Tie
These garage rockers from Thessaloniki, who have been around since the mid-'90s, are back with their first release in 7 years, which is also the first official recording with front man Alex O'Right howling and yelling. Includes the usual garage ingredients like fuzz, Farfisa, bass, drums and howls!
https://youtu.be/sD8TOG--Z_g