---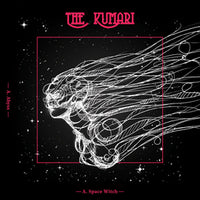 The Kumari – Abyss
Soundflat Records
Regular price $6.00
Tax included.
The Kumari – Abyss
Label: Soundflat Records
Format: Vinyl, 7", Single
Tracklist
A - Abyss  
B - Space Witch
After four critically acclaimed singles (on HEAVY SOUL, LOST IN TYME, HEY GIRL, CROQUE MACADAM), London's young psychedelic Garage-rock-newcomers THE KUMARI release their fifth 7' on SOUNDFLAT RECORDS! Influenced by West coast psych and garage bands from the 60s and 70s, these boys play fantastic and powerful music, that is both thrilling and exciting. The A-side 'Abyss' is a dark, psychedelic, rocking song with a gloomy touch to it. Interestingly, the single has no B-side, but a second A-side - the boys just couldn't decide on a song to be superior to the other one and both songs are definitely A-side-material! So A-side number two, named 'Space Witch' is a wild, rocking song with a lot of power! The song is wild psychedelic rock with a heavy guitarsound, a cool attitude and a catchy beat and rhythm. Their sound could be compared with bands such as THE TEMPLES, FOGBOUND, THE MOONS, VIBRAVOID , BRIAN JONESTOWN MASSACRE or BLACK REBEL MOTORCYCLE CLUB. Incredible fifth 7' by these psychedelic Londoners!
https://youtu.be/Z3yF18uqw04