---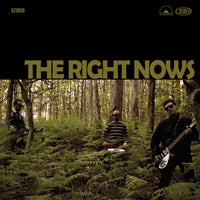 The Right Nows – The Right Nows
Sunny Day Records
Regular price $12.00
Tax included.
The Right Nows – The Right Nows
Label: Sunny Day Records / Action Weekend Records
Format: Vinyl, 10"
Tracklist
A1 - Little Song
A2 - Feeling Down
A3 - Tough Girl
A4 - Why Her?
B1 - Faces
B2 - Going Fast To Nowhere
B3 - Nothing To Say
B4 - I Want Her To Be Mine
The Right Nows come from Cedeira, a small town in the northwest of Spain, a region with a fruitful tradition of wild rock'n'roll & garage bands; they're three (Richie, Peque & Porto) and were born in 2007 though they sound as if they'd been together for ages.
Musically, their compositions find their roots in garage, psychedelic and punk sounds from the 60's to the 80's, not forgetting acid folk-rock sounds and powerpop, get the picture? Fuzz, reverb, vibrato, pounding beats, sticky choruses, electrifying riffs, timeless melodies… the real deal.
Listen here:
http://actionweekend.bandcamp.com/album/aw002-the-right-nows-s-t-10-mini-lp