---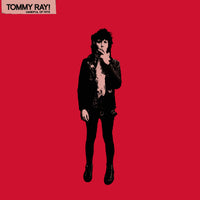 Tommy Ray! - Handful of Hits
Beluga Records
Regular price $15.00
Tax included.
Tommy Ray! - Handful of Hits
Label: Beluga Records
co-released with gadm-punk
vinyl can be black or coloured or both…

Format: LP Vinyl 
A1 - In Love Again
A2 - No No No No
A3 - On My Wall
A4 - One Step Forward
A5 - Closer-School Days
B1 - Beer Wine and Whiskey
B2 - Feel The Pain 
B3 - Losers Anthem
B4 - if You Need Anything
B5 - Always Runnin
B6 - I didn't Know It
Tommy Ray - Handful of Hits
Yes it's a new album by Tommy Ray, once the front man in the band The Cry! Now solo artist who has spent his lock down time recording. 
It was recorded and mixed by Ray mostly on his Mac. "Street mix" because it is so stripped down. Just enough production to get the point across. No shiny whistles or bells.